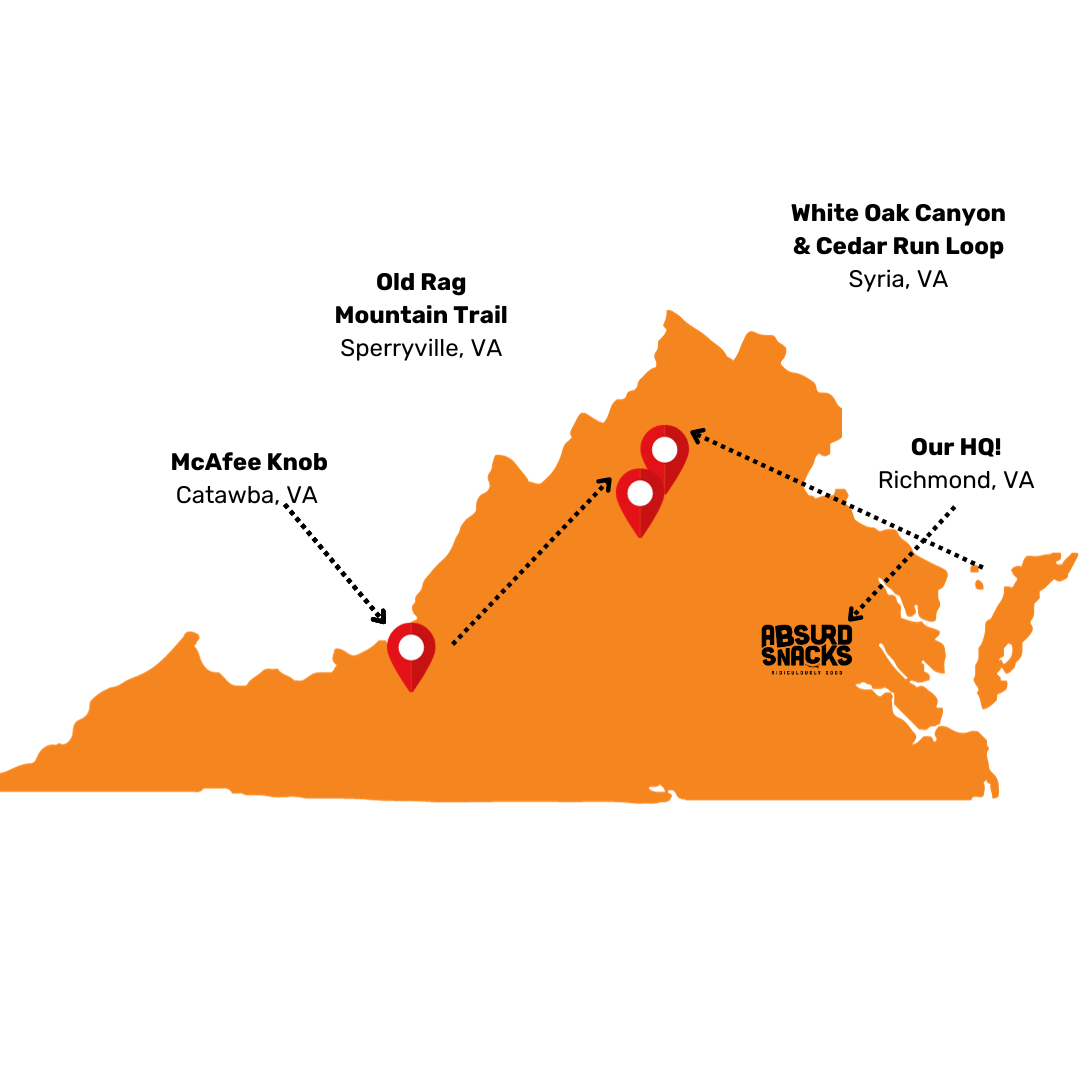 · By Absurd Snacks
Fueling Your Virginia Adventures: Top 3 Hikes to Enjoy with Absurd Snacks
If you're an outdoor enthusiast, a fitness junkie, or simply someone who loves to explore the natural beauty of Virginia, you're in for a treat (literally). This blog is your guide to the top three hiking destinations in the Old Dominion state that are perfect for those seeking a challenge while staying health-conscious. To accompany your adventurous journey, Absurd Snacks has your back. These allergy-friendly, high-protein, high-fiber, and low-sugar snacks are the perfect companion for your outdoor escapades. So, lace up your hiking boots, pack your backpack, and let's explore Virginia's great outdoors while fueling up with Absurd Snacks!
Old Rag Mountain Trail
Known for its panoramic views, rugged terrain, and rock scrambles, Old Rag Mountain is a hiker's paradise located in Shenandoah National Park. This challenging 9-mile loop offers a perfect blend of adventure and natural beauty. 
Fueling Tip: As you tackle those rocky sections and steep inclines, keep your energy levels up with Absurd Snacks. The high-protein content in our snacks will help you power through the most demanding parts of the trail. Their allergy-friendly nature ensures that everyone can enjoy them without worry. Throw a bag of munchy crunchy goodness into your backpack for quick and convenient access to a delicious energy boost.
McAfee Knob
This iconic hike along the Appalachian Trail is a must for any serious hiker. The 8.8-mile round trip leads to McAfee Knob, known for its jaw-dropping, Insta-worthy views of the Catawba Valley and North Mountain.
Fueling Tip: For a mid-hike snack break, Absurd Snacks offer the perfect solution. Our snacks are shelf-stable, so it's an excellent choice for long treks like this one. Plus, it's low in sugar and high in fiber, providing a satisfying and guilt-free way to keep your energy up during the hike. Enjoy the scenery and a bag of Absurd Snacks at the knob while soaking in the natural beauty that Virginia has to offer.
White Oak Canyon & Cedar Run Loop
Located in Shenandoah National Park, this challenging 9.7-mile loop is renowned for its waterfalls, pools, and lush greenery. If you're up for a bit of a wet adventure, this hike is perfect.
Fueling Tip: Waterfalls, natural pools, and challenging terrain - this hike has it all. Stay refreshed and energized with Absurd Snacks. They're a convenient and healthy choice to refuel while you're on the go. As you cool off by the waterfalls, take a moment to enjoy their allergy-friendly snack mix and embrace the soothing sounds of nature.
Virginia is a treasure trove of hiking adventures for those who love a challenge, and with Absurd Snacks by your side, you'll be well-prepared to conquer the trails. Whether you're exploring Old Rag Mountain, taking in the views from McAfee Knob, or chasing waterfalls at White Oak Canyon, make sure to pack some Absurd Snacks to keep you fueled and satisfied during your outdoor escapades. Happy hiking and snacking!