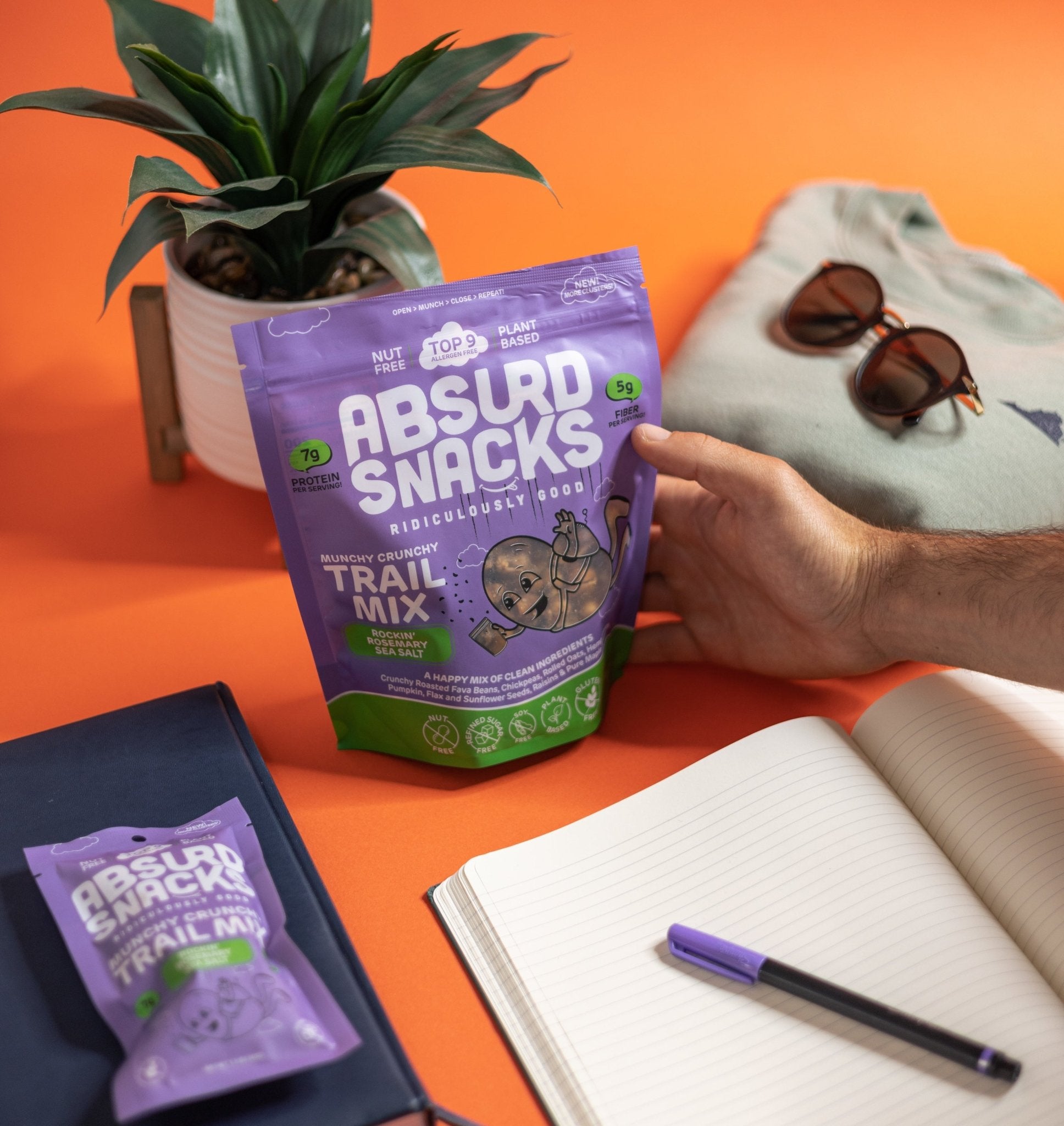 · By Grace Mittl
Back to School Allergen-Free Snacking with Absurd Snacks!
Sorry to be a buzzkill. But it's officially the third week of August which means the start of the school year is right around the corner!
Whether you're sending your little buddy to school for the very first time, crying happy tears that your teenager will finally be gone for half the day, or you're headed back to college to live a semi-independent life, you're probably thinking about school lunches, snacks, or looking to revamp your eating habits.
Lucky for you, Absurd Snacks is a school safe snack, being top nine allergen free and all. Not only are they safe to bring to the cafeteria table, but they're also shelf stable and can withstand sitting in the bottom of a backpack or purse for hours (or days, depending on the kid), and will always be fresh and crunchy upon opening. Our sweet and salty trail mixes are a crunchy munchy snack for students across the grades. Say goodbye to melted chocolate and super smushed cookies packed with sugar!
Magic Maple Cinnamon is sure to please your picky eater who only wants something sweet. Instead of your usual brownies and cookies why not try some single serve Absurd Snacks? Our customer reviews tell us that they taste like a healthier version of Cinnamon Toast Crunch. We'll take that.
Check out these google reviews to see for yourself!
Or if you're like us, you always reach for something salty during that midday crash to perk you back up. Good thing we have ample supply for all of your savory snack needs!
Maybe you more so need a bag of somethin' good to keep you munchin' during long study days. Well fear not, Magic Maple Cinnamon and Rockin' Rosemary Sea Salt also come in a 6-serving bag. You can become a celebrity in that stress-filled library with the shareable bag or go ahead and demolish the whole bag yourself to keep the brain cells goin' – there is no judgment here. All snacking techniques are absurdly awesome!
Can't decide what you want? Use this discount code 'SCHOOL-BEANS' for 15% off any order value. We're wishing you the best of luck this school year ♥️